PROJECT TITLE: MOSAIC – Mastering job-Oriented Skills in Arts & crafts thanks to Inclusive Centres of vocational excellence
PROJECT REFERENCE:

ERASMUS-EDU-2021-PEX-COVE



STATUS:
ONGOING
BACKGROUND
The project MOSAIC (Mastering job-Oriented Skills in Arts and Crafts thanks to Inclusive Centres of vocational excellence) represents a true mosaic of culture, passion, and skills. It focuses on three main areas: Traditional and Rare Crafts, Precious Metals and Jewellery, Furniture and Wood and their relationship to the design, arts, and industry sectors.
Today, the great potential of artistic handicrafts is recognised as a considerable workforce on a national and European scale, as it actively contributes to the attractiveness of their territory in terms of culture, tourism, employment, and economic impact. Craftsmen, primarily self-employed or belonging to small and medium-sized enterprises, can suffer from isolation and be better represented. Furthermore, they have few opportunities to federate as well as weak links to other sectors, such as the cultural and creative industries, which would benefit from better recognition and appreciation in our modern society. Artisans must innovate, integrate new technologies, work more digitally, integrate the green transition, and adopt a more design-oriented approach.
OBJECTIVES
For the next four years, it will be studied how VET can update its training offerings with societal and market developments, design innovative training modules and teaching methodologies, and promote internationalisation and global strategies in this field. Substantially challenging the international and European economy and competitiveness requires an effective training system adapted to its professional challenges, as well as to the crucial societal challenges of rapid technological change, digitization, climate change, circular economy, and new forms of work.
Therefore, certain specific objectives have been set for the coming years.
The specific objectives of the project are:
To increase and improve collaboration between companies, VET centers, and higher education institutions, to reach a state of mutual fertilisation;
To update the initial and continuing VET provision in Arts & Crafts by delivering new training modules;
To foster internationalisation and transnational strategies in response to the evolutions of VET and society;
To build a forward-looking VET through the integration of digital methodologies and environmental sustainability;
To improve the inclusion strategies of VET providers and facilitate the transition to the world of work in Arts & Crafts for those with fewer opportunities.
EXPECTED RESULTS AND PRODUCTS
Creation of an online European Observatory on Arts & Crafts to collect and publish data on a regular basis;
Creation of new training modules in the target sectors of Arts & Crafts, complying with the actual demand of the world of work;
Creation of a new training module for learners on digital and social entrepreneurship;
Creation of a mobility training scheme for professionals in their working life (C-VET);
Creation of a mobility scheme to implement blended study programmes at the transnational level;
Development of an online training course for schools's staff on internationalisation
Development of a training course on digitalisation for schools' staff;
Development of a training course on inclusion for schools' staff.
THE PARTNERS
The project brings together 15 organisations in 8 EU and non-EU countries, the majority of which already know each other and have had the opportunity to work together within the framework of European projects (notably Erasmus+ KA1 and KA2, but also COSME or Creative Europe), or within the framework of transnational exchanges of students and staff (France-Canada) or educational collaboration projects (France-Armenia).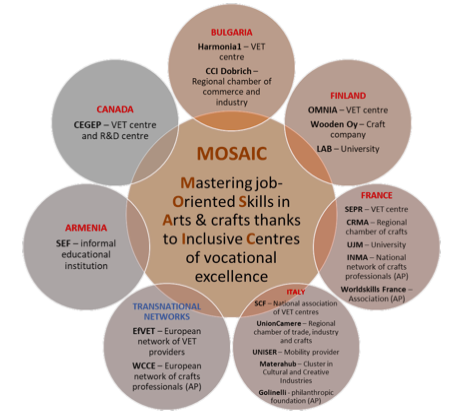 FRANCE

SOCIETE D'ENSEIGNEMENT PROFESSIONNEL DU RHONE – project coordinator

UNIVERSITÉ JEAN MONNET SAINT-ETIENNE 

INSTITUT NATIONAL DES MÉTIERS D'ART 




COFOM – COMITÉ FRANÇAIS DES OLYMPIADES DES METIERS 

CHAMBRE DE METIERSET DE L'ARTISANAT DE REGION AUVERGNE-RHONE-ALPES 
ITALY
SCUOLA CENTRALE FORMAZIONE 

UNISER 

FONDAZIONE GOLINELLI 

CONSORZIO MATERAHUB INDUSTRIE CULTURALI E CREATIVE 

Unioncamere ER 
FINLAND
OMNIA – ESPOON SEUDUN KOULUTUSKUNTAYHTYMA OMNIA 

Wooden Oy – PUUSEPA LIIKEWOODENOY 

LAB University 
BULGARIA 
HARMONIA1LTD 

CCI – CHAMBER OF COMMERCE AND INDUSTRY 
CANADA 
CégepVict – COLLEGE D'ENSEIGNEMENT GENERAL ET PROFESSIONNEL DE VICTORIAVILLE 
ARMENIA
STUMO Studios – SIMONIAN EDUCATIONAL FOUNDATION 
TRANSNATIONAL NETWORKS 
EfVET (BE)

WORLD CRAFTS COUNCIL EUROPE COMPANY LIMITED BY GUARANTEE (IE)